Firehouse Shelter softball ball team loses 11-5 to Aletheia House
Posted by Kelly Wallace on 07/23/2012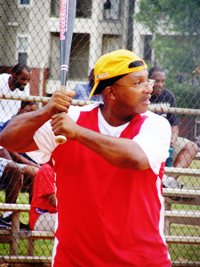 The Firehouse Shelter and The Aletheia House got together for an evening of fun and fellowship on Saturday, July 14th @ 6 PM @ Marconi Park in downtown Birmingham as the two agencies played a nine inning softball game. Aletheia House strung together a couple of big innings offensively to propel them to an 11-5 victory over The Firehouse Shelter.
A large crowd of fans was on hand to watch the game and thanks to Joe Maloof of Full Moon BBQ, a large feast consisting of bbq pork, chicken, and all the fixins were eaten by the players and fans after the game. The men from both teams were thankful and grateful for the opportunity to have some fun and fellowship while competing on the softball diamond.
The Firehouse Shelter players asked for a re-match and a tentative date of Saturday, August 18th has been set. Field location and time of game will be announced soon.