DUNN BUILDING COMPANY RAISES $7,700 FROM ANNUAL GOOD FRIDAY GOLF BENEFIT!
Posted by Kelly Wallace on 04/03/2013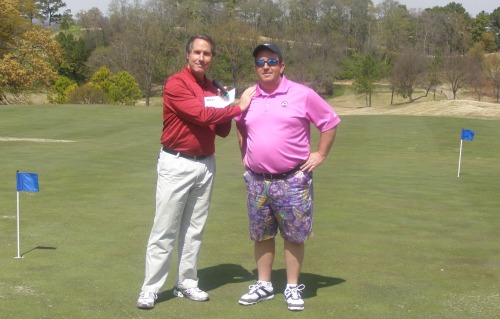 For the fifth consecutive year Dunn Building Company held their annual Good Friday Golf Benefit at Highlands Golf Course in Birmingham. Initially the event was a vendor appreciation event. Since 2011, Andrew Edwards (President) and Brett Clark (President, Business Development) have agreed to use the monies raised from the event to benefit The Firehouse Shelter's homeless ministry.
Doug Kovash, Development Director at The Firehouse Shelter, was on hand to receive the benefit check prior to tee off. "We have been blessed by the ongoing heavy investment of the Dunn Building and Dunn Construction companies. We have seen their involvement grow as a company over the years. To see their employees support the emergency shelter meal program, our speaker luncheons, and the development of our community garden has been exciting."
Thanks for caring about the homeless who live in our midst! God Bless You!