JULY UPDATE ON ACCIDENT VICTIMS!
Anne Wright on 07/03/2014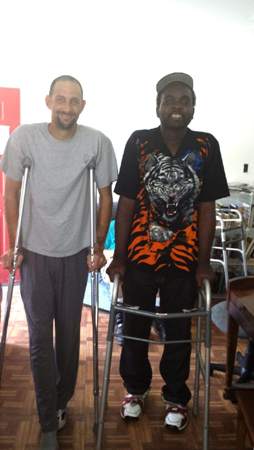 Dear Firehouse Shelter Supporters-
I am so happy to announce that as of today ALL of the gentlemen that were hit by the car last month are safely at home in Firehouse housing! These men all have a long road ahead of them with continuing stability and recovery, but the transition has been relatively smooth because of the excellent staff, volunteers, and supporters like YOU! The donations we received have provided healthy and easy to prepare food, medical supplies, and medication. In addition to providing housing and supplies, we are extremely blessed to have UAB OT students observe and make suggestions on modifications that will make the lives of our disabled population easier. We are continually blessed to have progress spring from adversity.
Also, I wanted to report that the corporate luncheon was a HUGE success. Coach Croom's message was incredibly moving, as was the testimony from our former guest and now employee, Russell McCay. A big thanks to all who participated and graciously donated to our organization. If you didn't get a chance to participate in the luncheon, don't worry! Our Gala is set for November 13,2014, more information will be released soon. These events are a great way to not only raise much needed funding, but also to learn more about our organization and meet fellow volunteers, staff, board members, and guests!
Once again, THANK YOU to all who have supported The Firehouse Shelter. Not only are you helping change the lives of the chronically homeless, you are helping to change the face of Birmingham. By supporting The Firehouse, you are supporting an organization that believes every person matters and has worth, every person deserves hope, and every person deserves a chance to change if they so desire. Thank you for all that you do.
Warmest Wishes,
Anne Darden Wright